חם מוכר 1.8M wer ep1802t ישיר מדפסת מדפסת בד

מפרטים
---
Usage:Direct flag printer
Plate Type:1.8m sublimation printer
סוג: מדפסת הזרקת דיו
מצב: חדש
אוטומטי כיתה: אוטומטי
Voltage:AC 220V 50/60HZ
Dimensions(L*W*H):3.36x1.1x1.58m
Weight:830KG
Warranty:1 Year, 1 year
Print Dimension:1.8m width
Ink Type:Waterbased ink
printhead:5113/DX5
ink type:waterbased ink
printing width:1.8 meter
צבע: CMYK
Materail type:polyester
RIP software:for free
after sales service:supplied
פרמטרים טכניים
---
Print Technology
Drop-On-Demand Piezo electric Technology
Number of print-heads
2 pcs Epson 5113.DX5
חרירי
4* 4 color ( C M Y K )
סוג דיו
textile printing ink
Ink supplying system
Auto sense ink supplying system
Intelligent monitoring system
auto detecting system while lacking ink
Heating & drying
Heating system
מצויד
Heating temperature
available: Normal temperature-25°C                                              suggest temperature:  30°C ----40°C
מערכת ייבוש
מצויד
Media accetpable
Roll Fabric, textile
Print width max
1800MM
מהירות
Mass production mode
30.0m2/h
Quality mode
22.0m2/h
Ultra quality mode
15.0m2/h
Print-head cleaning system
Automatic cleaning  & auto capping system
ממשק
USB2.0
RIP Software
Maintop or Photoprint
Power supply
 AC220V/110V   50/60Hz
סביבת עבודה
 Temperature: 20℃~32℃; Humidity: 40%~60%
Visiting Customers
---

מעולה לאחר שירותי מכירה
---
1.One שנה אחריות
You can discuss operation and maintenance with our technician online support service by Skype, MSN etc. Remote control will
be provided upon request.
2. חילופי חינם של רכיבים חדשים
Our quality is guaranteed 100%, the spare parts can be replaced within one year free of charge includes the airfreight by express,
except for the print head and some consumable parts.
3. ייעוץ מקוון חינם
The technician will keep online. No matter what kind of technical questions that you may have, you would get a satisfactory
answer from our professional technician easily.
4. התקנה באתר חינם והדרכה
If you are able to help us with getting the visa and also would like to bear the costs involved like flight tickets, food, etc, we can
send our technician to your office, and to give you a free installation and training for as long as you know how to operate it
Why Choose WER
---
A wide range of great products totalling over 50000 in future
. WER means customers can, employees can and investors can
. Professional customer after services and troubleshooting
. Become our potential partners as long as you believe yourself
. Friendly helpful customer services from WER.com
. Free or low shipping cost from China to any countries
. No minimum order quantity request
. PayPal, Credit Card And Boleto payment options
. Dropshipping is direct from us to users
. Shipping protected with product declaration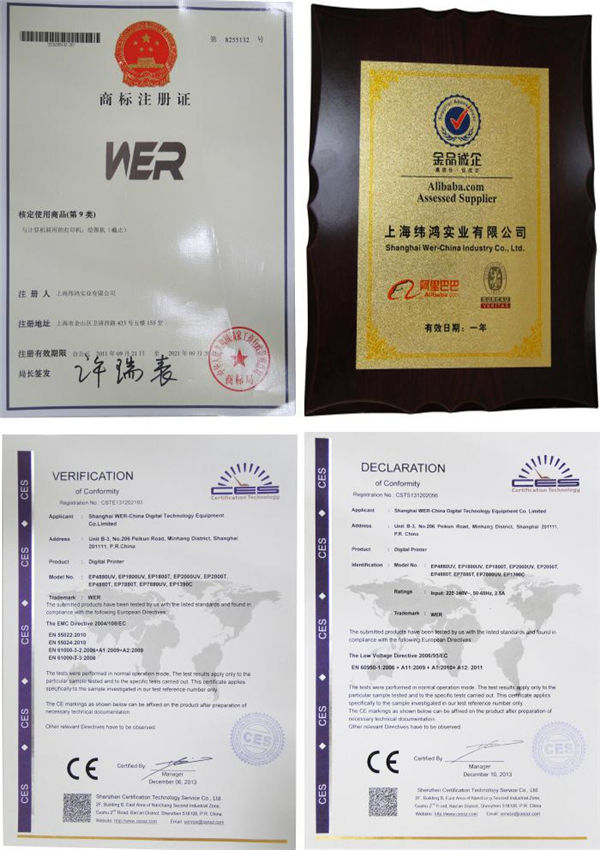 שאלות נפוצות
---
The sublimation and drying machine.
The main applications of sublimation and drying machine.
As the costs of sublimation inks and directly printing textiles cheaper and cheaper, the sublimation drying machine becomes more and more popular for printing display media, flex banner, textile belt, home textile items and so on.
What is the difference of sublimation drying machine and direct printing machine+ color developing machine?
The advantages of sublimation drying machine: easy to operate, drying as soon as printed, more popular for small printing business.
The advantages of direct printing machine+ color developing machine: Developing colors faster with lower power, better printing quality, longer life time, suitable for industrial printing business.
What should the customer notice before starting the printer?
a. Please make sure that the USB line and power line connect well.
b. Please check whether the ink is enough in the ink tanks. The ink tanks should be about 80% full.
c. Please check if there is air in the ink tubes, whether print head is clogged. If the head is clogged, the customer should use the cleaning solution to clean the head.
d. Make sure that the cleaning head ways is correct to protect the other parts.
e. please check if the printing platform is plain. If not plain, the customer can adjust the screw at bottom of the leveling measurement.
f. before printing, the customer should test the print nozzles. If there is missing some lines, please choose automatic head cleaning or manual cleaning the head.
g. please check the strength of the light of UV lamp, to make sure the UV lamp works well.
Notices when to turn it off?
Before shutdown, users should check and confirm whether the sublimation drying machine in normal standby mode or not.
If the the ink lacking lamp flashes,Please change the ink cartridge in time.The sublimation ink drying machine should have been turned off when all the printing works finished.
Thermal sublimation drying should be turned off in the form of cube power key.Do not shut down in the form of directly cut off the power,or it will cause serious consequences.
After shutdown, the sublimation drying machine should be covered by cloth cover ,in order to prevent dust intrusion damage from heating sublimation plate.