A3 בפורמט מותאם אישית בגד מדפסת דיגיטלית עם מחיר סביר

מפרטים
---
Usage: T-shirt Printer
סוג לוח: מדפסת שטוחה
מצב: חדש
Dimensions(L*W*H): 800mm*700mm*600mm
Weight: 45KG, 45KG
אוטומטי כיתה: אוטומטי
Voltage: AC220V/110V
Printing Size: 300mm*500mm
Printhead lifpspan: 1 - 2 years
ראש הדפסה: Epson DX5
Max Printing Resolution: 2880dpi
Printing Speed: 100 pcs /day
Application: Cotton, jute, silk, modal, poly-cotton mix, animal fur, leather, etc.
Ink: Environmentally friendly imported Pigment ink
Max printing thickness: 120mm
Dimension: 800*700*600mm
סוג: מדפסת דיגיטלית
שירות לאחר המכירה: מהנדסים זמינים למכונות שירות בחו"ל
A3 Garment Digital Printer Introduction
---
מהירות הדפסה
Print 1 pcs per time,100 pcs per day(8 - 10hours)
גודל ההדפסה
Max printing size is 300*500mm,sufficient for printing of T-shirt, hoodie,etc.
Suitable for
Garment customized printing or sample-printing, such as T-shirt,hoodie, shirt,cowboy shirt,jean,pillow,etc.
Printing material
Cotton, cotton&poly-mix, jute, artificial cotton, bamboo fibre, silk, woven fabric and knitted fabric.
Avoids printhead clogging
The White ink circulation and filter system is awarded the patent certificate issued by the State Intellectual Property Office.
Printing cost
The printing cost for light based color T-shit is USD0.08/pcs, for dark based color T-shirt is USD0.3/pcs.
High color fastness and no hand-feeling
With wet-scratch grade 3-4, the printed fabric does not fade when we wash.White printed fabric does not have hand-feeling, dark printed fabric has little bit hand-feeling but very good permeability.
Print without plate-making
No need plate-making, the T-shirt printer can print photograph on fabric directly.
Environmentally friendly
The imported reliable pigment ink is used without irritating smell,volatility and hazardous material. No waste water or waste gas will be produced during production.
Low consumption
Just needs 110/220V household electricity and very low power.
Simple operation
Requires 1 person, 1 printer, 1 computer only, we can be familiar with the operation through half-day training.
פרמטר
---
ראש הדפסה

Epson DX5

Printhead lifpspan

1-2 years

פתרון הבעיה

5760*2880*1440DPI

Printing area

300*500mm

מהירות הדפסה

100pcs/day

Printing cost

USD0.08/pcs(light color T-shirt,A4 size)

USD0.3/pcs (dark color T-shit, A4 size)

Color fastness

Grade 4, water&sunlight resistant

יישום

Cotton, jute, silk, modal, poly-cotton mix, animal fur, leather, etc.

דיו
מתח

AC 110~220V

כוח

150W

ממשק

USB,LAN (RJ45 network interface)

Operated system

XP,WIN7,MAC OS

עובי הדפסה מקסימלית

120 מ"מ

משקל

45Kg

ממד
Garment Printing Sample
---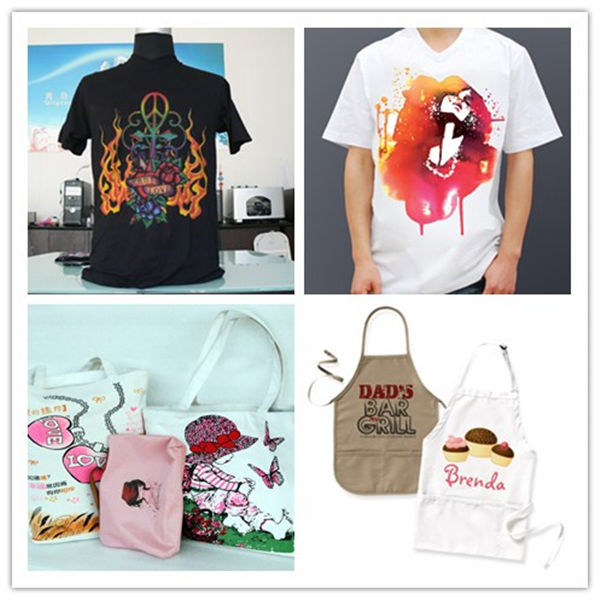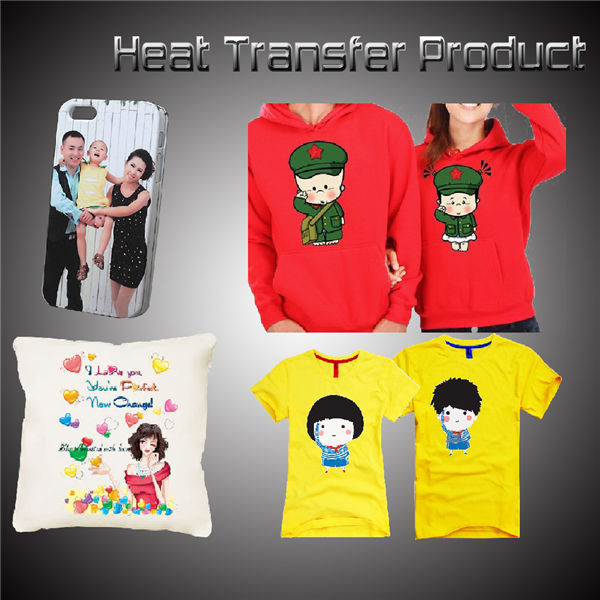 Do you think maybe you can not master the printer operation without any printing and pattern-editing experience? Please don't worry:
A.Our professional door-to-door training service includes teaching digital printing process, software, printer operation, maintenance and repairing.
B.The operation of the A3 t-shirt digital printer is very simple owing to the digitized touch-screen panel, we can operate it without manual.
C.The printing process just includes 3 steps: coating, printing and color fixation.We will provide you the whole process training service.
D.We can print any patterns from Internet,mobile phone camera photograph or design by ourselves.It would be better if we can edit pattern by Photoshop or AI or CorelDraw.
E.According to our experiences, all of our clients cam master the skills of our printer operation, maintenance and repairing easily, including the old and teenagers.
The operation/maintenance cost of garment printing
The most concerning issue is the operation and maintenance cost of the T-shirt digital printing machine,because it affects our profit.The higher printing cost it needs, the lower profit we will make, and vice versa.
Following are the cost of operation and maintenance.
A. Ink.
The main consumption of T-shirt printer is ink, its price ranges from USD30 to USD80 per liter,it is generally made in China.The price of white ink ranges from USD180 to USD230. Therefore,1 set of ink(CMYK+White, each color is 1L)costs about USD300 - USD550, it looks high, but the more ink we use, it means the more order we have taken.
B. Pre-treatment primer.
There are two types of primer, the primer for light based color fabric costs USD15/L, that for dark based color fabric costs USD45/L, that is alright, the more primer we consumes, it means the more order we have taken.
C. Pinthead.
The printhead of our A3 format T-shirt printing machine is Epson DX5, it costs USD1180/pcs and it is floatable,the lifespan is from 1 to 1.5 years.
D.Electricity.
The power of our A3 format T-shirt printing machine is not high, it is 100W, for the post-treatment, we need a heat press machine, its power is 2KW/h, but we can use it only when we need, don't need to power on all day around.